Features you want from a Magic app.
Mise Eyes was built for lovers of Magic like you. While other apps look like they came from your company's IT department, Mise Eyes strives for more. You deserve the most snappy, beautiful and intuitive app for your Magic journey.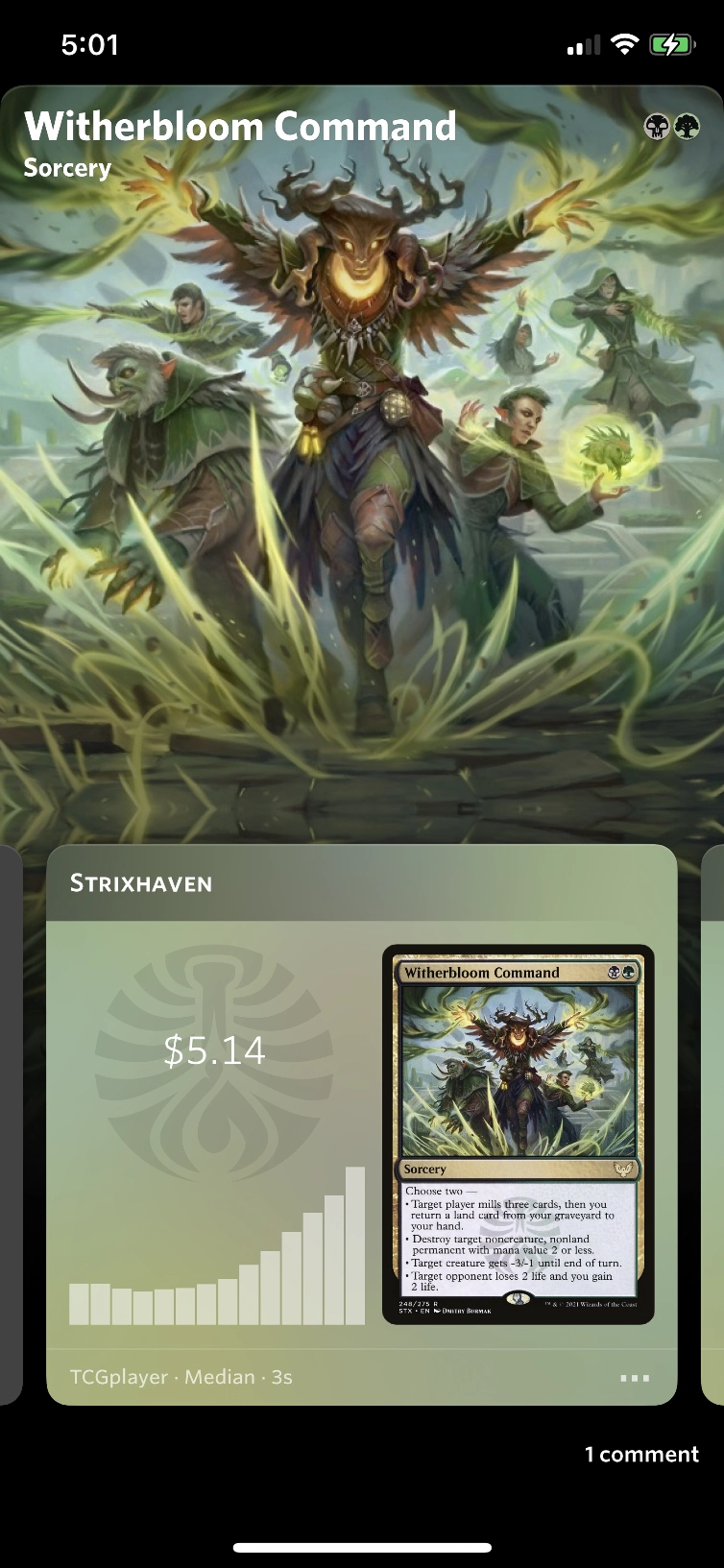 Current quotes
We pull live quotes from TCGplayer for any card and all its various printings.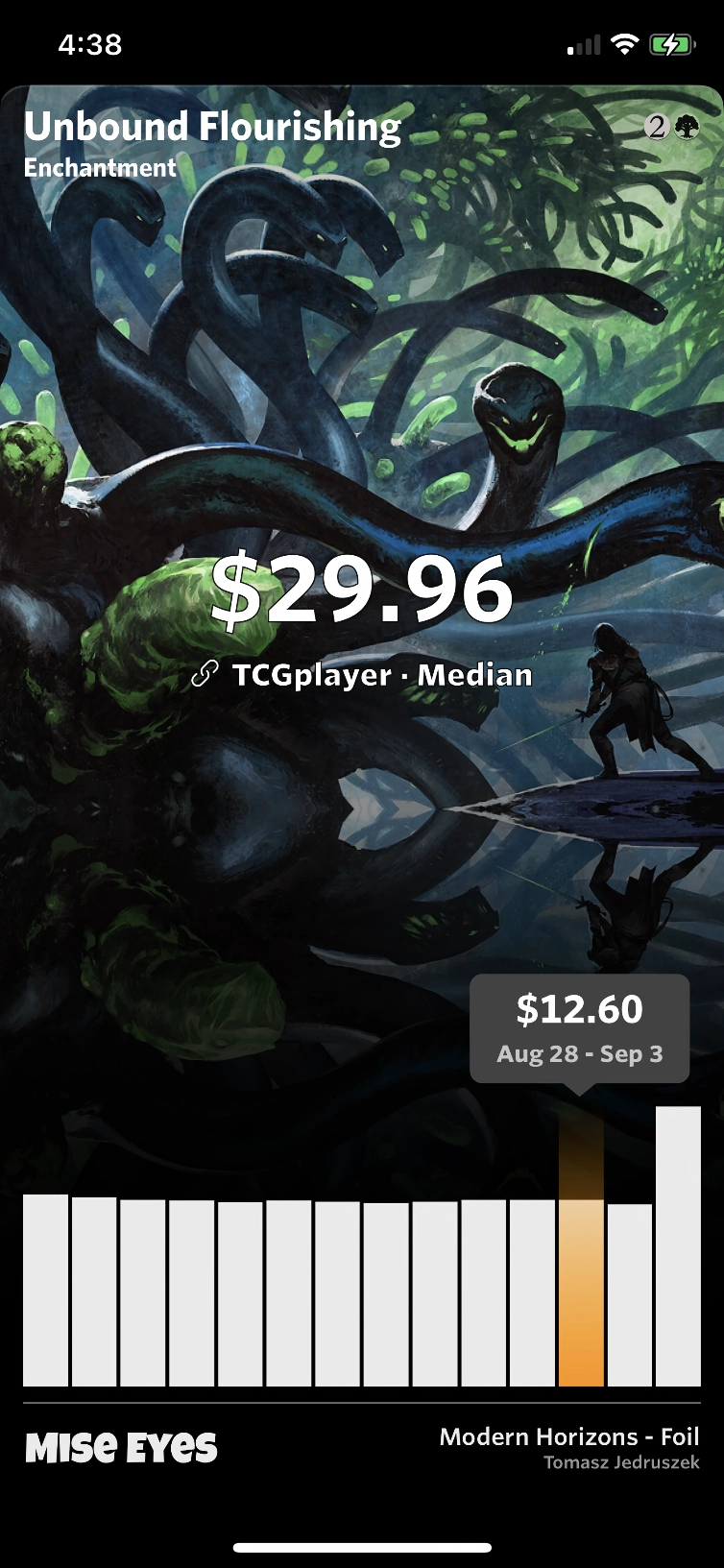 Interactive charts for historic quotes
Should you buy or sell? We can't tell you that. But we can show you what its price action has looked like in the last 13 weeks.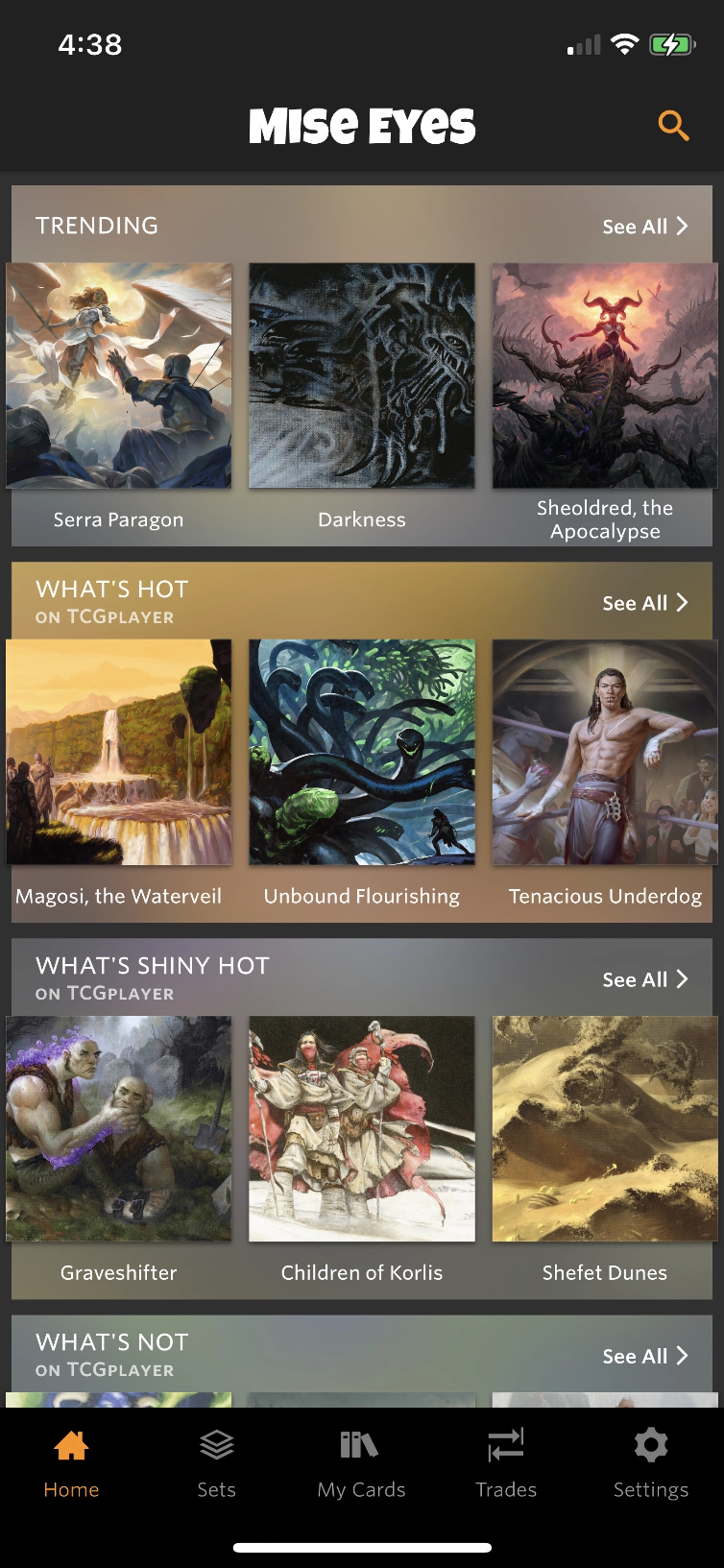 What's Hot?
We analyze the price action every card and display the best and worst performers for you. Know what to look out for at a glance.
Full of fabulous features
Whether you're into MTG finance or you're an art aficionado, we've got features for you.
Digest Financial Data

Browse cards that are trending up or down at a glance. Updated daily. You will always be in the know before headed to your LGS.

Find Cards Fast

Our super speedy search predicts what you are looking for - even before you are done typing. And our database is always fresh.

Join the Conversation

Have an opinion on the price of a card? Or how it will do in the next PT? Share your thoughts with the community in healthy debate.

Manage Card Lists

Save cards to your binder, wishlist or your own custom lists. Track their value as sets rotate and new brews emerge.

Track Your Trades

No more manually adding values up. Line up cards while trading. Save a history of completed trades to celebrate (or cry about).

Preview Spoilers

Coming soonish. Don't miss out on the latest cards in the next set. Check out spoilers during spoiler season.
People everywhere are discovering Mise Eyes
Here's what they are saying...
No commitment monthly plans.
We would love your support. But if you're unable to, we got your back!
Pauper
Free$0
Enjoy our lovingly crafted app on us.
Trending cards

Median prices from TCGplayer.com

Thirteen week historical prices

25 card binder and wishlist

Three custom card lists

Trade tracking for 90 days

Ad-free
Premium
$2.99$70
Support our continued development.
All Pauper features

Market prices from TCGplayer.com

Buylist prices from TCGplayer.com

Unlimited storage for card lists and trades
Frequently asked questions
If you have anything else you want to ask, reach out to us.
What does 'Mise' mean?

Mise is slang for 'might as well'. In the early days of Magic, it was used to express a lucky top deck. When you are about to lose but draw your Balace, mise!

Are there plans to put the scanner back in?

Yes. But it might be awhile...

What's up with the Andriod version?

This was implemented by a third-party developer so they could access Mise Eyes on their phone. You might be able to get them to update the app if you ask nicely.

Where does the price data come from?

We use the TCGplayer's API to fetch data. In the past, we also scrapped data (with permission) from Channel Fireball. However, this has been overcome by events.

Why does this card show as spiking?

Card price changes are calculated from nighly quotes. From this calculation we take the greatest changes.

Why charge a one-time price rather than a subscription?

Our server costs are recurring, so we charge a recurring price. At some point we will evaluate lifetime pricing, but we are not there yet.

Someone is spamming comments, can they be blocked?

Yes. If you tap ellipses on a comment, there is an option to block and/or report a user.

How do I unblock someone?

Currently, there is no way to do this in the app. If you *really* want to unblock them, email us and we can do it for you.

How are some users able to have a space in their user name?

Originally, we implemented sign in with Facebook. When a user signed in, we used their first and last name via Facebook to create a user name. However, we have since removed all traces of Facebook from the app. The new implementation does not allow for spaces.